PureVPN provides unrestricted browsing experience with protection against all online threats.The service offers rich features including the option of a dedicated IP address. With pptp, l2tp/ipsec, sstp, openvpn and IKEv2 connections for maximum security.The top quality support is there to help technophobes with any problems, and enthusiasts will find plenty they can tweak themselves. Highly recommended.

1. PureVPN's Free SmartDNS – When There is a Need for Speed!
What else can give us more edge on competitors than offering groundbreaking innovative services? PureVPN offers SmartDNS service to provide users with the fastest streaming and access to 100+ of the hottest channels. What do you think which channels users desired the most? Suggest Channels >>
2. PureVPN Sets its Foot in 85+ Locations, Including Middle East
PureVPN has added 40+ new countries, including Middle East. The addition of 40+ new countries brings the total number of locations in the PureVPN network to 85+ with over 475 servers and 70,000+ IPs. Keep us updated about the countries that are highly voted at your platform! Suggest Countries >>
3. New P2P Servers That Unblock All Torrent Websites
To cater to the needs of our Torrent-loving customers, we have added 13 new servers to unblock all Torrent websites and support super-fast Torrent downloads. The new Torrent servers are set up in Germany, Netherlands, Sweden, Romania, Russia, Luxembourg, Turkey, Bulgaria, Lithuania, Estonia, Dubai, Moldova and Brunei….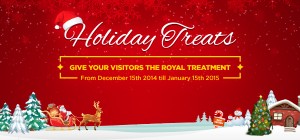 On the eve of Christmas and New Year, PureVPN will be offering Holiday Treats to our customers starting from December 15, 2014 until January 15, 2015. Check out our Holiday Season discounts below:
Christmas Deals
(December 15 to 28 – 2014)
| | | |
| --- | --- | --- |
| PureVPN Plan | Original Pricing | Holiday Pricing |
|  Monthly | $11.95 | $ 7.95 |
|  Quarterly | $35.85 | $ 20.95 |
|  Semi Annual | $72.10 | $ 44.95 |
|  Annual | $143.40 | $ 47.95 |
| | | |
| Addons | Original Pricing | Holiday Pricing |
|  SmartDNS | $4.99 | FREE! |
|  Dedicated IP | $5.99 | $ 2.99 |
|  NAT Firewall | $5.99 | $ 2.99 |
|  Dedicated Streaming | $5.99 | $ 3.99 |
|  Stealth Browser | $5.99 | $ 3.99 |
New Year Deals
(December 29 to January 15)
| | | |
| --- | --- | --- |
| PureVPN Plan | Original Pricing | Holiday Pricing |
|  Monthly | $11.95 | $ 7.95 |
|  Quarterly | $35.85 | $ 20.95 |
|  Semi Annual | $72.10 | $ 44.95 |
|  Annual | $143.40 | $ 47.95 |
| | | |
| Addons | Original Pricing | Holiday Pricing |
|  SmartDNS | $4.99 | FREE! |
|  Dedicated IP | $5.99 | $ 1.99 |
|  NAT Firewall | $5.99 | $ 1.99 |
|  Dedicated Streaming | $5.99 | $ 3.99 |
|  Stealth Browser | $5.99 | $ 2.99 |