Geosurf service is a VPN/Proxy server service provider. You can get more than 100 locations on their server.Use their service you can"surf locally without being local", which is exactly what they do.Geosurf not just provide basic anonymity services,But also there have some feature that other service not have.
VIEW LOCAL CONTENT AND ADS WHICH IS VERY USEFUL FOR INTERNET MARKETING.
There are many CPA/affiliate network advertisement have GEO Targeting  function, So you must use special IP that match GEO Targeting. That also helpful,especially for Media buyer. Geosurf  can help you check the advertisers Landing Page  easily. Information about campaigns, advertisers, mediators can be extracted.That can help you analyzing products and promotion Campaigns promoted In other countries.
EASY TO USE VIA  PREMIUM PROXY TOOLBAR.
GeoSurf  Toolbar has a very intuitive and simple interface,Which  compatible with Firefox,Chrome, IE  on PC, MACor Linux, also compatibility to mobile devices including iPhone, iPad, iPod Touch and Android phones / tablets.Integration of browser with the toolbar makes it easier to work. Learn GeoSurf's demo video lean how to see the local content in the location of your choice.
GEOSURF PLANS AND PRICING
Geosurf offer a 5-DAY TRIAL that No setup or cancellation fees. After TRIAL their have 4 plan for you choose.You can choose plans depending on how many private proxy locations you want to use.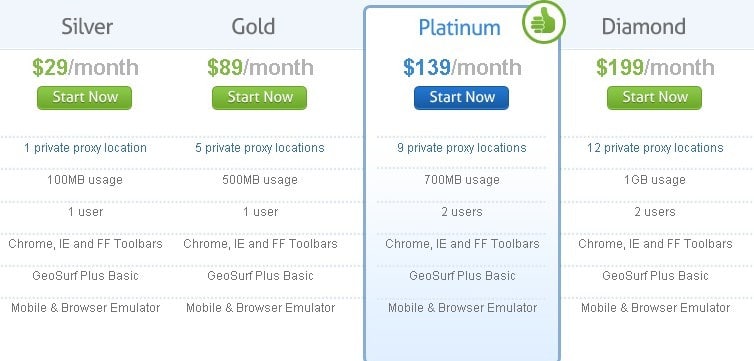 Also if you some special needs like, GeoSurf Direct Connect API,GeoSurf for Smartphones,GeoSurf VPN Connection.you can contact them directly.
Geosurf is very useful for internet marketers.If you are the serious  Media buyer, geosurf must be a essential tool for your business.